Pacific Rain Forest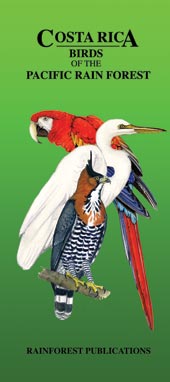 Pacific Dry Forest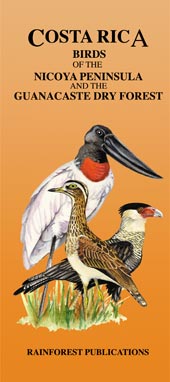 Rainforest Publications' Fold-Out Pocket Field Guides are designed to slip into your pocket so that you can easily access our field guides and identify the flora and fauna you see while on your walks, hikes, and excursions through Costa Rica.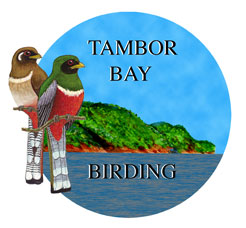 Costa Rica's Pacific Coast Habitats have too many birds to fit into one guide, so we made two, one for each primary type of habitat.
One guide includes the birds you'll see in the Rain Forest, such as the Scarlet Macaw. The other guide includes the birds you'll see on the Nicoya Peninsula and in the Guanacaste Dry Forest.
Buy 4, save 12%
Purchase any 4* Rainforest Publication Fold-out Pocket Field Identification Guides to the flora and fauna of Costa Rica for $32 !! Get a variety or get matching sets for your kids or friends. *offer limited to the 15+ guides listed below.
The illustrations on these fold-out field guides from Rainforest Publications were created by British naturalist, Robert Dean, who has lived and worked in Monteverde, Costa Rica, since the early 1990s.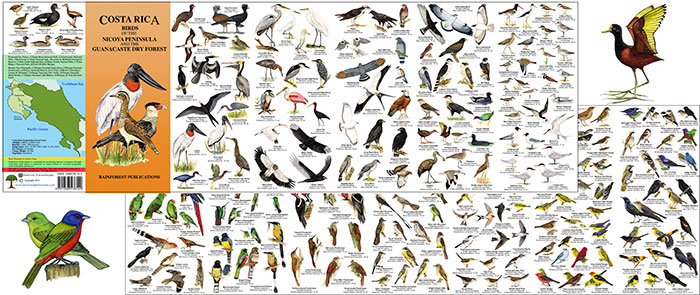 Both sides of the Rainforest Publications pocket guide to the Birds of Costa Rica's Nocoya Peninsula and the Guanacaste Dry Forest
The illustration of each species on the field guide is accompanied by the name of the species in English, Spanish, and Latin.
Rainforest Publications Fold-out pocket guides are approximately 24" by 8.75" (61 cm by 22 cm) when spread flat, and contain twelve 9 cm by 22 cm "pages" plus front and back cover pages. When folded, they are only approx. 3.5" by 8.75" (9 cm by 22 cm) and easily fit into your pocket.
You may also be interested in:
Rainforest Publications gives donations for each guide sold to environmental and educational organizations. See our About Us page for a list of organizations that have benefited from the sales of our Field Guides.