You can purchase Rainforest Publications Fold-Out Pocket Field Guides online for delivery within the U.S. and most international destinations other than Mexico.

To purchase in person or for delivery to addresses within Mexico, visit biosakbé.com

Caribbean Reef Fish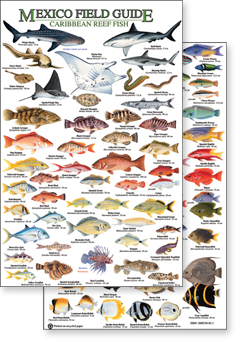 $5.95
978-0-9840107-7-6
Caribbean Sport Fish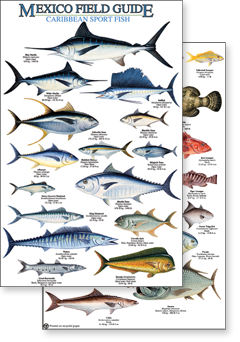 $5.95
978-0-9840107-6-9
Rainforest Publications' fold-out field identification guides for wildlife in the Caribbean region of Mexico are designed to slip into your pocket. You will be able to easily access our field guides and identify the critters you see while on your walk, hikes, and excursions through Mexico's Caribbean region, including the Yucatan, Campeche, and Quintana Roo.
Our guides are UV resistant and quite durable. Interested in technical information about the construction of our wildlife pocket id guides? See technical specs.
The Rainforest Publications series of guides to wildlife in the Mexican Caribbean areas include:
Two of our popular marine guides, Reef Fish and Sport Fish guides. Marine guides are 7" by 11" (17.85 cm by 28 cm), printed on both side with UV resistant inks.


Five of our popular foldout guides, Birds, Mammals, Marine, Butterfly, and Tropical Fruit guides. These guides are available for the Mexican Caribbean area: Quintana Roo, Yucatan and Campeche.
And for good measure, five fold-out pocket guides to the flora of Mexico. These guides cover all regions of Mexico, including both the Pacific and the Caribbean coastal regions.



New Pocket Guide to the Herbs-Spices of Mexico (for pepper lovers);
Pocket Guide to the Fruit of Mexico (also for food lovers);
Pocket Guide to the Trees of Mexico

Pocket Guide to the Flowers of Mexico
Pocket Guide to the Orchids of Mexico
fold-out pocket
field guide for
Flowers
in Mexico
(all regions)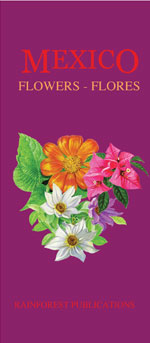 $8.95
978-0-9840107-9-0
fold-out pocket
field guide for
Tropical Fruit
in Mexico
(all regions)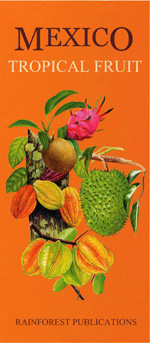 $8.95
978-0-9840107-8-3


Shipping and Handling (S&H)
The cost of standard S&H can be calculated by viewing your shopping cart & entering your zip code. If you want your guides faster, you can change the method from standard to express during check out.

We reserve the right to adjust the S&H cost up (or down) for large orders. We ship to most international destinations. If your order does not include S&H because it is to an international destination outside our predefined zones, we reserve the right to add S&H or to issue you a refund if we do not ship to that destination (we'll email you first if an adjustment is necessary, we may have a distributor in your area).

International shipments cannot be insured or tracked unless shipped Express Mail per US Post Office Policy.




All major credit cards are accepted. The PayPal system is used for online purchases but a PayPal account is optional.

Wholesale prices are available for larger orders.